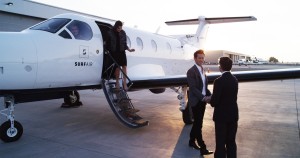 Unlimited flights start at $1,750 per month with a $1000 initiation fee. Membership plans include monthly, annual with guest privileges, and group plans for families and corporations.
Fly between Los Angeles, SF Bay Area, Santa Barbara, Sacramento, Carlsbad, Monterey, Truckee, Napa, Palm Springs, and Las Vegas*
First Class Experience
Board our executive aircraft and settle into BMW-designed, plush leather seats with plenty of room to work or recline and relax.
Surf Air was created for frequent flyers by frequent flyers. Look forward to 30-second booking, unlimited flights, easy-to-access local airports, and an engaging community. This is how flying should be. Questions? Call 1.888.704.2582 x5